NAGOYA, Japan -- The first marriage between a human being and a space alien is still going strong, over six years after the couple tied the knot!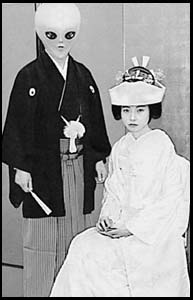 BIZARRE COUPLE X1431 and Miyoki Tanaka have been married for 6 1/2 years -- and they're happier today than the day they tied the knot!
"I'm happier than I've ever been -- much happier than I ever thought I would be," said Miyoki Tanaka, who wed her extraterrestrial husband on March 29, 1993, in a simple Shinto ceremony. The event was covered by Weekly World News and other carefully screened members of the world media.
"We've both had to make a lot of adjustments, but our love for each other has helped us overcome our cultural and species differences," Miyoki said.
Miyoki, who has retained her last name, communicates with her husband X1431 entirely through mental telepathy. X1431 does not speak either Japanese or English.
The couple met after X1431's family's spacecraft landed in an isolated area near here.
The alien family contacted the Tanakas.
Miyoki and X1431 married after two years of negotiations between their families.
X1431's parents, brothers and sister wanted to improve relations with the people of Earth.
In return, the aliens, because of supernatural powers not completely understood by scientists, were in a position to help the Tanaka family business succeed.
"When we met, there was no real love between us," Miyoki says. "We were respectful to one another but we only agreed to the marriage out of a sense of duty. But over the years, we've learned to love one another."
The relationship hasn't been an easy one. X1431 has some habits that would drive any Earth woman to distraction.
"When he's excited, he makes a shrill, earsplitting noise that gives me terrible headaches," says the 25-year-old, a receptionist at her father's exclusive restaurant.
"And he won't eat what I cook. He prefers shoe polish and brine.
"He also has a nasty habit of floating around the room at night, which is distracting when you're trying to sleep."
But Miyoki admits some of the things she does are equally hard to put up with for X1431.
"For some reason, he hates it when I brush my teeth and has to actually leave the house until I finish," she said.