SYDNEY, Australia -- You are not alone, top UFO researchers reveal -- because every one of us has a "twin" from outer space who watches over us day and night!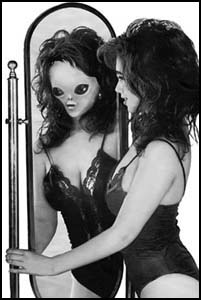 SCIENTISTS believe it's aliens, not angels, that protect us.
"For every human being on Earth, there appears to be an alien counterpart who takes care of them when times get tough, who shares the same thoughts and who bears a remarkable resemblance to them physically," says respected cosmologist Dr. Thomas Coates.
"This relationship appears to be the true cause of thousands of so-called abduction experiences -- and perhaps every story we've ever heard about guardian angels."
After analyzing thousands of alien contact reports and interviewing hundreds of contactees around the world, Dr. Coates and his colleagues have discovered a specific pattern -- with eerie similarities between the human subjects and their alien visitors.
In many cases, the creatures seem to take a personal interest in specific people, subtly making their presence known and protecting the individual just like a guardian angel.
A 6-foot-4 lumberjack from Saskatchewan, Canada, was driving home on a lonely logging road when his truck blew a tire and flipped down a hillside into a tree. Dazed and bleeding, the man -- who was born with part of his left index finger missing -- struggled to free himself but couldn't open the door.
Suddenly, he found himself bathed in light. The door swung open and he found himself surrounded by tall humanoids with large eyes. They carried him to a room filled with strange equipment, where one specific creature approached the wounded man.
"The logger recalled his shock when he looked at this creature, because it was like looking at himself in a mirror," Dr. Coates said. "Unlike the others, this one had eyes and a face exactly like his -- and was missing part of its left index finger."
The next morning, the stunned lumberjack woke up by the side of the road with his injuries mysteriously healed.
"We have heard similar stories from people who have come face-to-face with their extraterrestrial twin more times than you can possibly imagine -- enough times to convince us that each of us has a twin from space watching over us," Dr. Coates said. "There's no doubt in our minds, in fact, that these aliens are the so-called guardian angels that we've all felt caring for us from time to time.
"But whether these helpful creatures come from Heaven or some distant planet really shouldn't concern us -- because either way, they're all part of the same master plan."