. . . because they didn't want us eavesdropping on them, say scientists!
JOHANNESBURG, South Africa -- In a devastating setback to the international search for extraterrestrial life, a giant radio telescope being used to probe the stars has been destroyed -- and some scientists fear that aliens may be responsible for the mysterious mishap!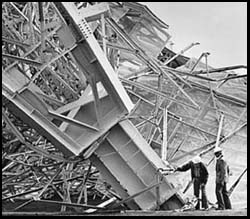 IN THE AFTERMATH: Researchers collect samples of the twisted wreckage for analysis. This once magnificent structure stood 300 feet tall and weighed 600 tons.
At 2:13 a.m. on March 18, what witnesses described as a "pulsating blue beam" streaked out of the sky and slammed into the 250-foot Rand-Wilson telescope near Johannesburg, lighting up the facility and a quarter-mile area surrounding it.
At daybreak, stunned researchers found that the multimillion-dollar telescope had been reduced to a tangle of scorched and twisted metal.
"It looked as if it had taken a direct hit from a category five hurricane, but the weather that night was completely tranquil," chief astronomer Dr. Nigel Van Hecht said in a phone interview.
"We are entirely at a loss as to what could have caused this. The damage is certainly not consistent with any known natural phenomenon, such as lightning.
"We have concluded that it is the result of sabotage and because of the uncanny nature of the weapon, we are strongly leaning toward the theory that the attackers were non-terrestrial."
The South Africa-based telescope, one of the world's largest, was a key element in the international scientific endeavor known as the Search for Extraterrestrial Intelligence, or SETI.
Scientists use radio telescopes -- essentially giant antennas -- to "listen" for radio waves coming from outer space.
While some radio waves are natural, the theory is that waves within certain frequencies or manifesting unusual patterns could only be broadcasts from an alien civilization.
The program has been widely hailed as a more prudent and cost-effective means of alien- hunting than manned space exploration. And the powerful Rand-Wilson telescope, able to listen in on about 6,000 stars within 400 light-years of our solar system, was considered a uniquely vital tool.
But Dr. Van Hecht and his colleagues now fear the approach may have backfired.
"It's conceivable that the aliens don't like us eavesdropping on them -- and that this was their crystal-clear way of telling us to cut it out," the astronomer said. "Certainly, they may have secrets they don't want us listening in on."
Although researchers around the world will continue to use other radio telescopes to scan the cosmos for signs of intelligence, the Rand-Wilson telescope is history.
"The damage is irreparable," Dr. Van Hecht said. "This is a real tragedy for science."