The Bible's ark of the covenant which supplied the Israelites with food as they crossed the desert was really a mini-nuclear reactor.
That's why Moses was willing to risk marching his people through the endless burning desert wilderness.
Who supplied the people of Israel with food? Extraterrestrials helped them -- and Moses knew it.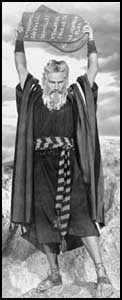 MOSES, portrayed here by Charlton Heston, led the Israelites through the desert for 40 years.
For "the Lord" who appeared to him in the burning bush showed him a machine that would take care of any worries about food supplies during the long years of the exodus.
It was a marvelous machine. It stored up water from the night dew, then mixed it with a microscopic type of green algae (chiorella) and produced as much food as was needed.
The food synthesized from dew and green algae was produced by radiation. Radiation needs energy. Where could it be obtained in the barren desert? What kind of source of energy was it that was exhausted after 40 years?
Today we can erase the question mark. From our knowledge of existing technology it could have only been a mini-nuclear reactor. Reactors of this type exist and have been in service for some time.
References in the Bible and other writings of the time all support the idea that the ark was a mini-reactor. Obviously the ark could not be left out in the open. Perhaps it had to be protected from desert sandstorms, perhaps the very high daytime temperatures were harmful to it. Perhaps, too, the wandering Israelites were not supposed to know the mysterious factory which produced their food.
At any rate, an ark, a beautifully made chest, was built around it, following the model and instructions given. Therefore, the ark of the covenant was not the manna machine, but merely the container in which it was preserved and transported.
The twofold goal was reached. The sensitive machine was protected from both damaging outside influences and inquisitive glances. During long rest periods, a tent was erected around "the factory." It was never set up inside the camp, because of the dangerous radioactivity.
"Now Moses used to take the tent and to pitch it outside the camp, far off from the camp, and he called it the tent of meeting" -- Exodus 33:7.
Let us keep on the trail of our material evidence. We already know quite a lot about it, including how it worked.
It indefatigably turned out the glutinous foodstuff, manna, for six consecutive days. A six-day week. The machine was cleaned on the seventh day by the Levites, who had been instructed by Aaron, Moses' brother. Aaron had climbed the mount with Moses and had obviously been given a crash course.
Later, after the Israelites had found the land of milk and honey, the machine was no longer needed, but its reputation made it an object of envy.