LEXINGTON, Ky. -- For the third time in as many weeks, a gay space alien has tried to seduce a male human!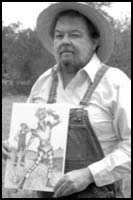 KENTUCKY FARMER James Swaise claims prissy alien made sexual advances toward him.
This time, the terrified recipient of the unwanted advances was a Kentucky farmer who describes the incident as "the most sickening and disturbing" of his life.
"He looked like a regular Earth man but he walked with these prissy little steps and swished his shoulders back and forth," says 38-year-old James Swaise of the May 17 encounter.
"He landed in the south meadow in a little round spacecraft just big enough for one person. He got out and started mincing up to where me, my family and six of my farmhands were working.
"He had something in his right hand and at first I thought it might be a ray gun or something. But as he got closer, I saw that it was a bunch of wild flowers he had picked from my field. He kept putting them up to his nose and sniffing them.
"It didn't seem to me like a manly thing to be doing.
"When he got close enough, we saw he wasn't really human. His skin was an off-green color and his arms were longer than a regular person's. They came down almost to his knees.
"There were eight other men there, my two sons -- 18 and 19 -- and my six employees. But the alien seemed to zero in on me.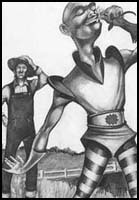 SPACE SISSY just smelled fowers & recited poetry.
"Without saying anything, he came over in front of me and did a girlish, mincing little dance for me.
"He tried to give me the flowers but I wouldn't take them. Then he put his filthy hands on me and tried to bring his lips up to mine. He kept putting his hands on me and I kept pushing them off.
"Finally, I got mad and punched him hard in the face. It didn't seem to hurt him physically, but he hung his head down and started making these whimpering, sobbing noises.
"Then he just walked back to his UFO, got in and took off."
Authorities have interviewed all nine witnesses -- Swaise, his two sons and the six farmhands. All tell the same story.
One of the workers even made a sketch that portrays the effeminate humanoid with a baffled Swaise looking on.
UFO experts say that although close encounters with extraterrestrials are commonplace, up until recently, reports of homosexual E.T.s have been extremely rare.
The other two incidents -- one reported in Bogota, Colombia, the other in Paris -- occurred on May 1 and May 10 respectively.