MODESTO, Calif. -- Flabbergasted camper Stan Goodbrow got the shock of his life when he heard an ear-shattering shriek in the middle of the night, rolled over in his sleeping bag -- and found a bizarre, bug-eyed space alien trying to mate with his motorcycle!
"That thing was definitely from outer space, there is no doubt in my mind about that -- and it was displaying an extremely unnatural fondness for the exhaust pipe on my Harley," recalled the still-trembling Stan, 44.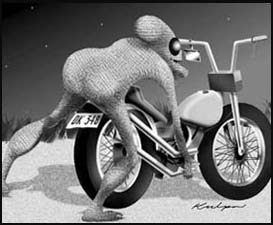 SLEAZY RIDER: alien from space checks out Stan Goodbrow's motorcycle in NEWS artistDick Kulpa's illustration.
"It was making a hell of a ruckus, too -- squealing and shrieking and howling.
"The thing saw me and let out a scream, and I thought it was going to charge for sure. I reached for the gun in my backpack, but before I could get my hands on it, the little pervert turned and scampered up the hill and out of sight. Five minutes later, I had everything packed up and was on my bike, riding like hell in the opposite direction."
Unsuspecting Stan's horrifying ordeal unfolded August 4 as the Modesto motorcycle mechanic camped near the banks of the Tuolumne River east of here.
"The city kind of drives me crazy sometimes, so every once in a while, I go for a week out in the woods all by myself to clear out my lungs -- and kinda clear out my head, too," the rattled bachelor told a reporter.
"And for the first couple of days of this trip, everything was perfect -- nice and peaceful and quiet.
"Then about 11:30 on Wednesday night, I was sound asleep when this awful racket woke me up -- and I must of flew about six feet out of my sleeping bag when I saw what was making all the commotion.
"I'll tell you, I've been going out in those woods all my life and what I saw that night wasn't something that lives out there -- or anyplace else on this Earth, I'll guarantee you that.
"The thing wasn't even 5 feet tall -- smaller than my mom, and she's tiny -- and it had these huge eyes and a lumpy, gray, mushy-looking head that made it look like it had its brains on the outside of its skull.
"It had a lower jaw that stuck way out, and these big, nasty teeth that looked like they could bite you in half.
"And when it shrieked, it was worse than a thousand fingernails scraping on a blackboard."
Stunned Stan said when he spotted the brazen alien, it was hunched over his Harley, smothering the hog with smooches and displaying an obvious hankering for hanky-panky with the gleaming machine's rather reluctant exhaust pipe.
"That sicko had fallen madly in love with my ride, no two ways about it," the mortified biker said. "If I'd woken up a few seconds later, I'm sure old Betsy would have lost her virtue right there on the spot."
In retrospect, baffled Stan admits he saw no starship in the area and can't prove the sex- crazed creature came from space.
"But when you see something like that with shiny, gray skin and eyes as big as saucers trying to make mad, passionate love to your motorcycle, you don't have to be a biologist to figure out it's not a coyote," he said.